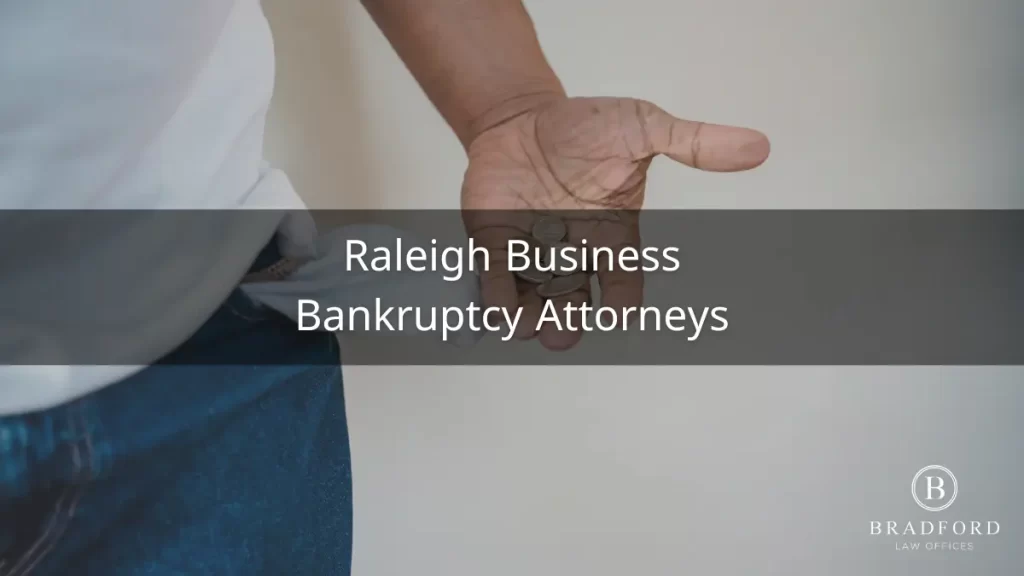 Seeing the light at the end of the tunnel is challenging when you realize your business can no longer meet its monthly expenses and debt payments. You have worked diligently to make your company a success, and now you're faced with the financial and emotional strain of how to keep it going. When you find yourself in this tough position, the Raleigh business bankruptcy lawyers of the Bradford Law Offices can help.
While many companies will encounter debt obstacles at some point, problems arise when the costs of the debts exceed the resources. When a business has this issue, it is often beneficial to file for bankruptcy protection. However, this doesn't necessarily result in the termination of a business. Business bankruptcy can result in a more robust business with carefully planned finances.
The Raleigh business bankruptcy attorneys of the Bradford Law Offices offer free consultations. We can determine if filing for business bankruptcy is right for you. We understand you may have many questions during this time, and we assure you we have the answers. Call us at (919) 758-8879 or speak with a representative live.
Do I Need a Business Bankruptcy Attorney?
When you find yourself with insurmountable debt, realizing your range of legal options is a challenging process. If you are struggling financially as a business owner, you have options. With a qualified legal representative from Bradford Law Offices, you will have the guidance you need to make your company successful. An attorney can consult with you about your situation, advise you on your options, and can help you with the paperwork, and represent you at hearings. Bankruptcy allows businesses to restructure and remove creditor harassment and return to profitability. The goal is to keep your business open so that you can turn things around and hopefully thrive in the future.
Why Choose Bradford Law Offices to Handle My Case?
We have been serving Raleigh and Cary for over 25 years. Founder and attorney Danny Bradford has experience with residential, commercial, and government cases. This includes lien claims and bond claims. He helps construction-related companies restructure debts under Chapter 11 of the Bankruptcy Code. Mr. Bradford is a member of the North Carolina Bar Association, Bankruptcy Section, National Association of Consumer Bankruptcy Attorneys, and the Wake County Bar.
At Bradford Law Offices, we understand that financial situations are unpredictable and unique. We take pride in our ability to guide you in the right direction to get you out of this situation as soon as possible.
Types of Cases We Handle at Bradford Law Offices
We customize solutions based on a client's financial needs. We will review your case to determine the best type of protection for you and your team. At Bradford Law Offices, we understand an array of bankruptcy and debt management options. Companies stressed with overwhelming debt have several options for filing for protection. These include the following:
Chapter 7 Business Bankruptcy
This is the most common type of bankruptcy filed by businesses and is available to individuals and businesses. Several things to keep in mind about Chapter 7 bankruptcy include:
Businesses must liquidate assets to reduce debt
The court will conduct a "means test" to determine the type of protection
Chapter 11 Bankruptcy
If you are struggling to overcome the challenges of prolonged debt, consider your option to file for Chapter 11 bankruptcy. Some benefits include:
The business can still operate while paying off its debts
Borrowers can partially pay back unsecured debts
The automatic stay judgment prevents aggressive creditors from calling you
You can reorganize secured debts where payments can be less and stretched over a more extended period
Chapter 12 Bankruptcy
This type of protection is for farms and fisheries to relieve incurred debt. These industries are unpredictable. The government allows farms and fisheries to pursue Chapter 12 bankruptcy protection.
Business Bankruptcy Statistics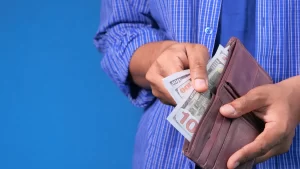 Filing for bankruptcy can be an isolating and challenging process. However, many businesses have pursued bankruptcy and have seen the benefits. Knowing the facts can help ease your mind and guide you in making an informed decision for your business. According to the American Bankruptcy Institute:
Bankruptcy filings in the United States, including all chapters, totaled 37,700 in June 2023, a 17 percent increase from the June 2022 total of 32,198
Commercial Chapter 11 filings increased 9 percent to 404 in June 2023 from the 371 filings recorded in June 2022
Commercial filings were 2,123, a 12 percent increase in June 2023 compared to the 1,891 filed in June 2022
Subchapter V small business elections increased 111 percent to 198 in June 2023 from the 94 filings last June
Individual filings increased 18 percent from the 30,307 filed in June 2022
According to news reports, Wake County has the ninth-highest bankruptcy rate of North Carolina's 100 counties. There are 26.10 bankruptcies per 10,000 residents. This puts Wake County above North Carolina's average of 16.71 bankruptcy cases per 10,000 residents.
The Small Business Association (SBA) reports about 50 percent of small businesses do not survive. Most of them fold within the first five years. If your business quickly falls into debt, consider filing for bankruptcy to save it. That's why small business bankruptcy exists. The courts and their trustees understand how vital small business is to our economy. Protections are in place to help you regain your footing and achieve the success you have worked hard to earn.
Bankruptcy is a common and powerful tool businesses use to restructure their finances and get back on their feet. Don't delay in talking to a qualified, knowledgeable business bankruptcy attorney. We are standing by, ready to help you save the business you have worked hard to create. Call us today at (919) 758-8879 to discuss this option.
Contact Us Today for a Free Consultation
It can be challenging for those without legal knowledge to understand the options for filing for bankruptcy. Like many others before you, you may find that filing for business bankruptcy will give your company a fresh start. You need an experienced team standing behind you to reach a satisfactory resolution.
No matter how severe your debt issues, bankruptcy protection may be able to help. Contact us at the Bradford Law Offices at (919) 758-8879 today to discuss your financial issues and concerns.
Related Posts:
Written By: Danny Bradford
Last Updated: September 22, 2023