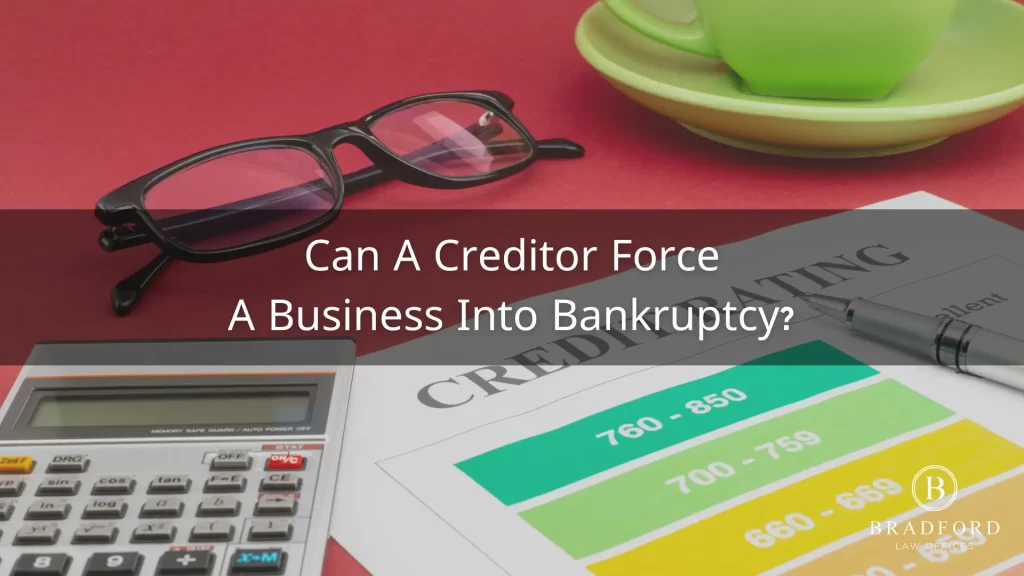 When an organization faces serious financial difficulties, filing for bankruptcy can allow business owners to reorganize their debts and start afresh. However, when a debtor seeks to force the business into bankruptcy involuntarily, the situation can change from an opportunity to a catastrophe.
While involuntary bankruptcy is a relatively rare occurrence, you need to understand what options are available to you and what steps you can take if it happens to your business.
What Is Involuntary Bankruptcy?
Involuntary bankruptcy is a situation that can occur when a creditor believes one of their debtors has not satisfactorily repaid debt. The creditor has the right to petition a bankruptcy court, setting forth requirements the creditor must satisfy. The debtor will then have 21 days to respond before the commencement of bankruptcy proceedings. If the court agrees with the petition and the debtor fails to respond or satisfy the stated requirements, an order for relief will place the debtor into bankruptcy.
Why Would a Creditor File a Petition Against My Business?
Creditors often go to extreme lengths to recover money from their debtors. When more traditional options do not work, they might file an involuntary business bankruptcy petition against your business in the following circumstances:
Your business has fallen behind on payments – If you have stopped paying your debtors the money you owe them or have made significantly late payments, your debtors might try to recover their money by filing an involuntary bankruptcy petition.
Your business has become insolvent – Insolvency is a situation in which a business's assets cannot cover its debts. If this happens to your business, a creditor can try to force you into bankruptcy.
You disagree with your debtors over what you owe them – If your debtor believes your company owes more money than you think you do, they can file for involuntary bankruptcy against your business.
What Are the Requirements for Involuntary Bankruptcy?
Some organizations cannot be subject to involuntary bankruptcy petitions. These include:
Banks
Credit unions
Insurance companies
Non-profit organizations
Farmers
Family farmers
If your organization does not fall into these categories, a creditor may file a petition for involuntary bankruptcy against you if the following conditions apply:
The creditor holds a valid claim against your business
The debt is at least $18,600
The creditor can prove that you have not generally paid your debts punctually
Furthermore, the viability of the petition will depend on the number of creditors your business has. If you have fewer than 12 qualifying creditors, only one of them will need to file the petition. However, if you have 12 or more creditors, at least three of them must jointly file the petition for involuntary bankruptcy.
What Steps Can I Take to Prevent Involuntary Bankruptcy?
If your business is currently facing the prospect of involuntary bankruptcy, you may have options. You may be able to take measures to protect yourself, such as:
Negotiating a new payment plan – You might have the option to negotiate with your creditor to establish a new plan to pay off your debt if you believe your business is in a position to do so.
File an objection – If you believe your creditors do not meet the requirements for an involuntary bankruptcy petition, you can file an objection with the court. If you can provide evidence to support your position, you may be able to have the petition dismissed.
Convert to voluntary bankruptcy – If your situation ultimately requires your business to go into bankruptcy, you have the option to convert your petition from an involuntary case to a voluntary one. This can give you a greater degree of control over your company's fate.
Contact an Experienced Raleigh Bankruptcy Lawyer
Dealing with bankruptcy is always a challenge, whether it is forced or unforced. If your business is facing challenges with creditors, the legal implications can feel overwhelming, especially if you do not have an experienced attorney on your side.
Bradford Law Offices has helped Raleigh business owners navigate the bankruptcy process for nearly three decades. Mr. Bradford and his staff have the experience, skills, and reputation for helping North Carolina business owners reach a favorable outcome in their bankruptcy proceedings. If you believe your business might be subject to an involuntary bankruptcy filing, our business bankruptcy lawyers can review your case to help you understand what steps you can take to fight back. Call Bradford Law Offices today at (919) 758-8879 or contact us online to learn more about how we can assist you.
Written By: Danny Bradford
Last Updated: September 22, 2023